Photographic print sizes and mounting and photo finishing options.
Photographic Prints include Full Color Correction service, ensuring the best print possible from your image. No Color Correction service is also available for those who prefer to manage their own color.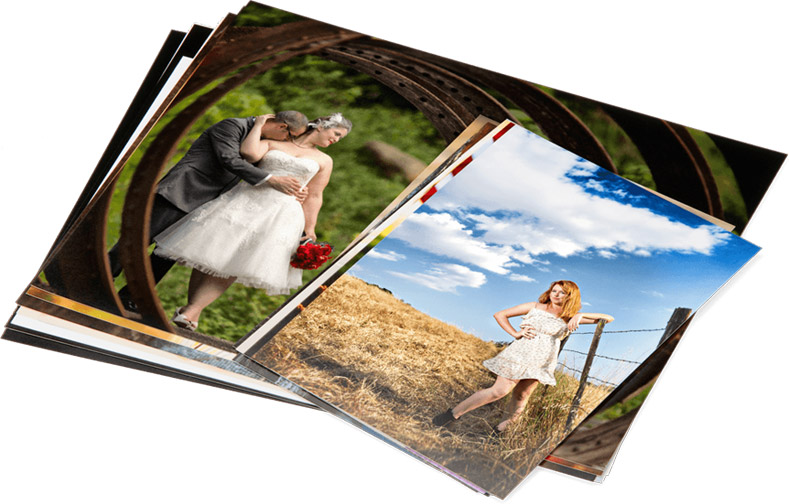 Print Surfaces
We use only professional photo papers so that you always receive the longest lasting and highest quality photographic prints available.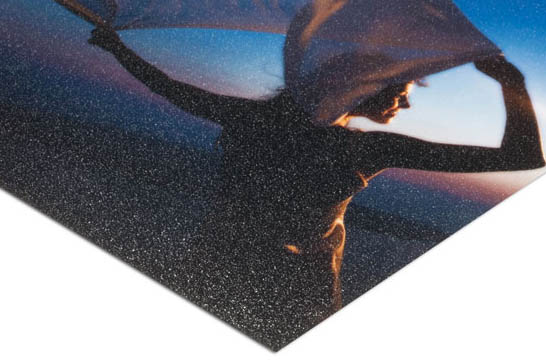 Kodak ENDURA Lustre "E"
Our default surface paper, featuring a fine grain pebble texture.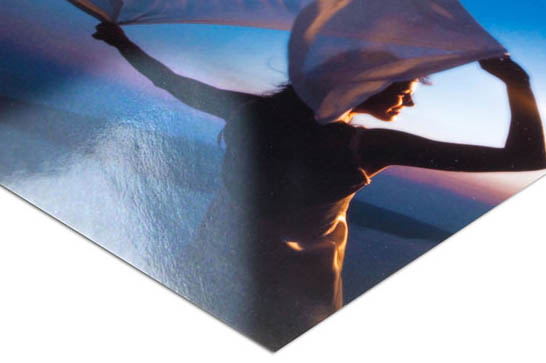 Kodak ENDURA Glossy "F"
Professional photo paper with a glossy finish.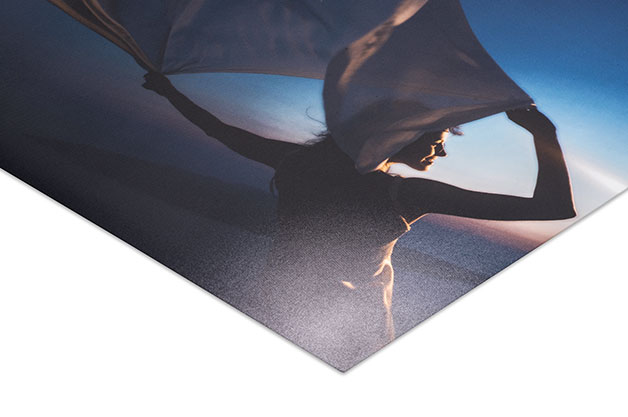 Kodak ENDURA Silk
The silk textured finish of this elegant paper surface is perfect for vibrant images with warm highlights and natural skin tones.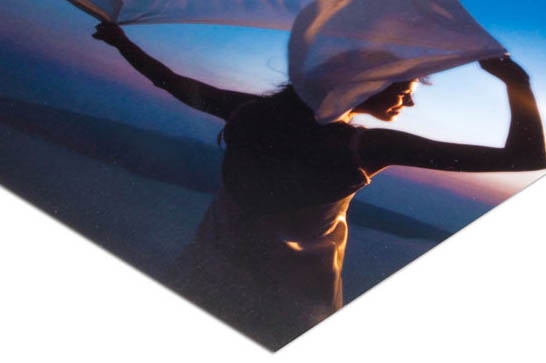 Kodak ENDURA Metallic
Features a glossy finish and metallic appearance that creates images with exceptional visual interest and depth.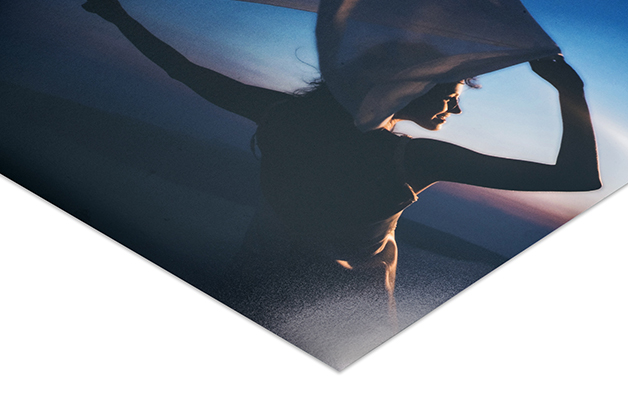 Fuji Crystal Archive Matte
A traditional professional matte surface paper with minimal texture and sheen, showcasing vibrant, true-to-life colors.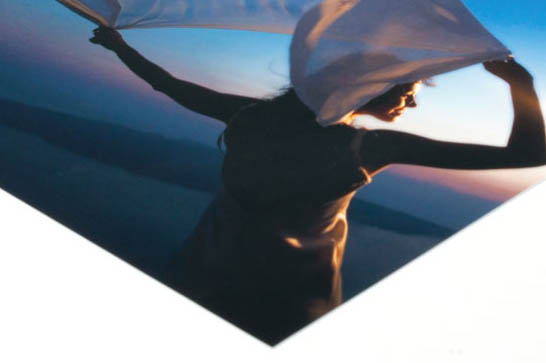 Fuji Crystal Archive Deep Matte Velvet
Professional paper with a deep matte non-reflective surface that feels velvety soft.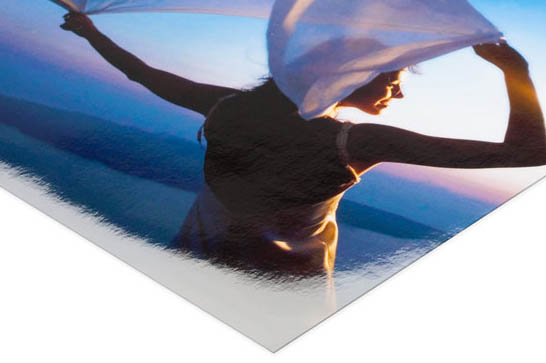 Fuji Crystal Archive Pearl
This glossy surface offers sharp detail, high intensity colors, and a distinctive pearl-like appearance. Perfect for competition and display prints.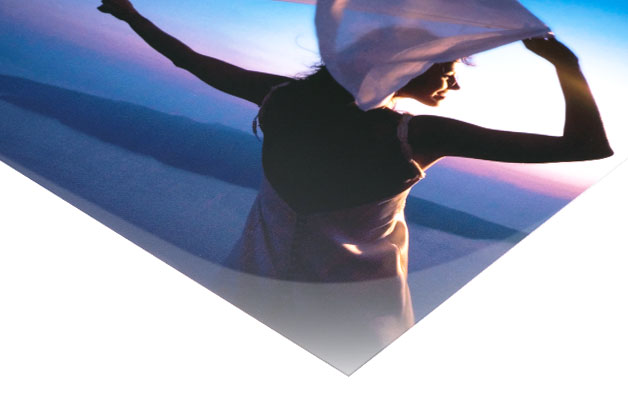 Fujiflex Crystal Archive
The ultra-smooth high gloss surface of Fujiflex features a warmer base tone and extra rich colors.
Protective Coatings
Protect the surface of your print, while enhancing the appearance.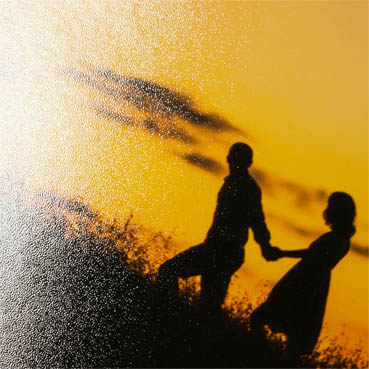 Glossy Coating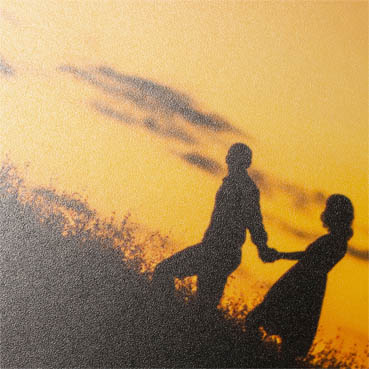 Lustre Coating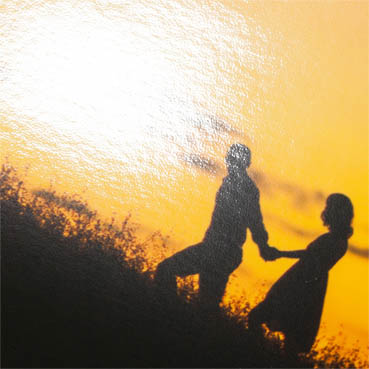 Glossy Plastic Laminate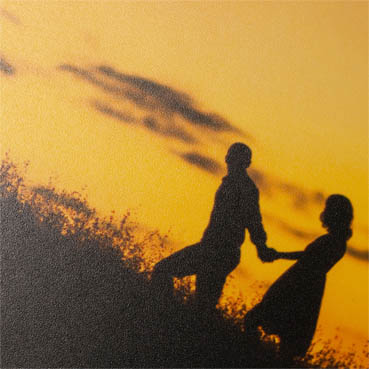 Satin Plastic Laminate
Textures
Textures can be pressed into your print to add a classic fine-art look to your image.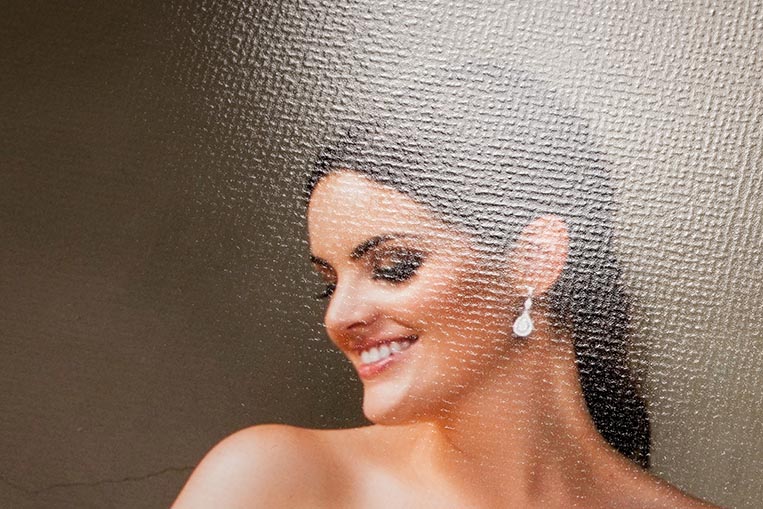 Canvas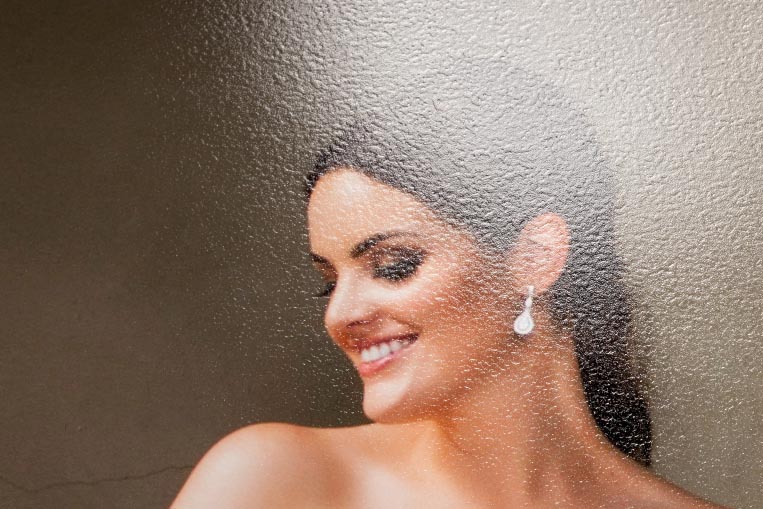 Pebble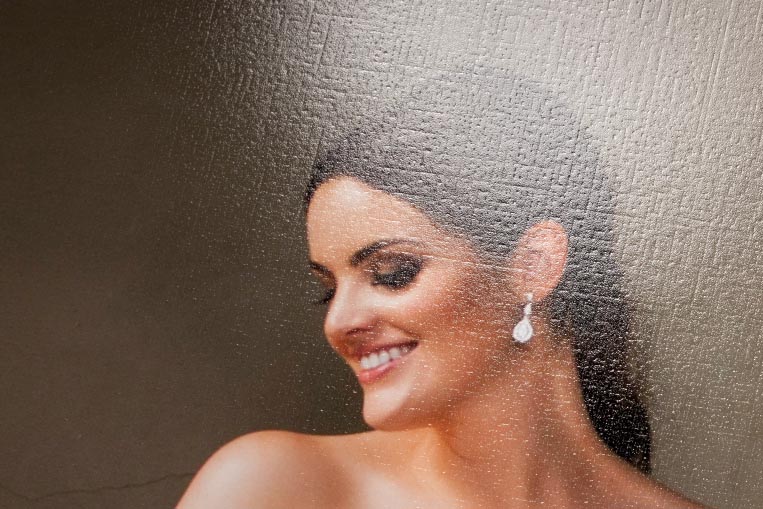 Linen
NEW MAXIMUM HD SILVER HALIDE PRINTS
Our Maximum HD Silver Halide Prints are printed at 610dpi for more than 4x the resolution of standard Photo Prints. Now available as an upgrade on all sizes.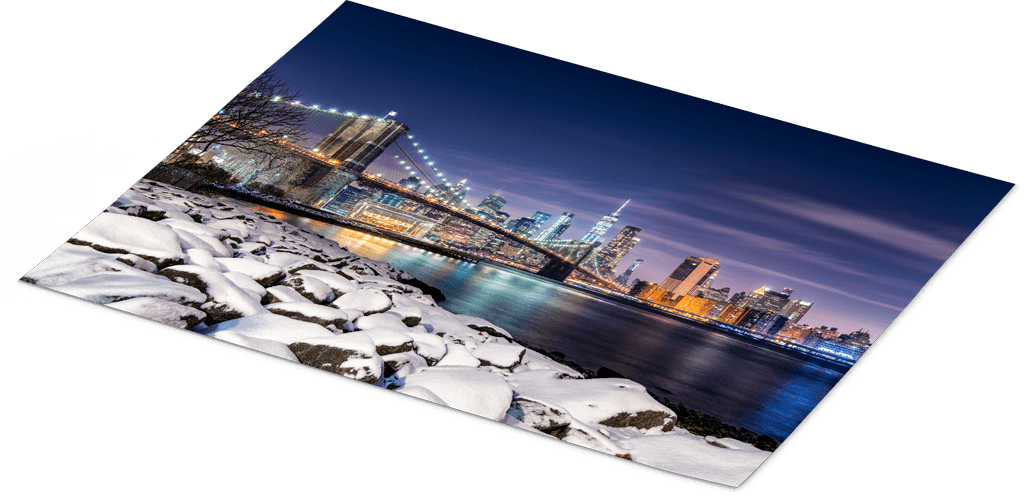 Standard Mounting Options
Display your Photographic Prints at their best in any situation.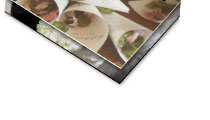 Styrene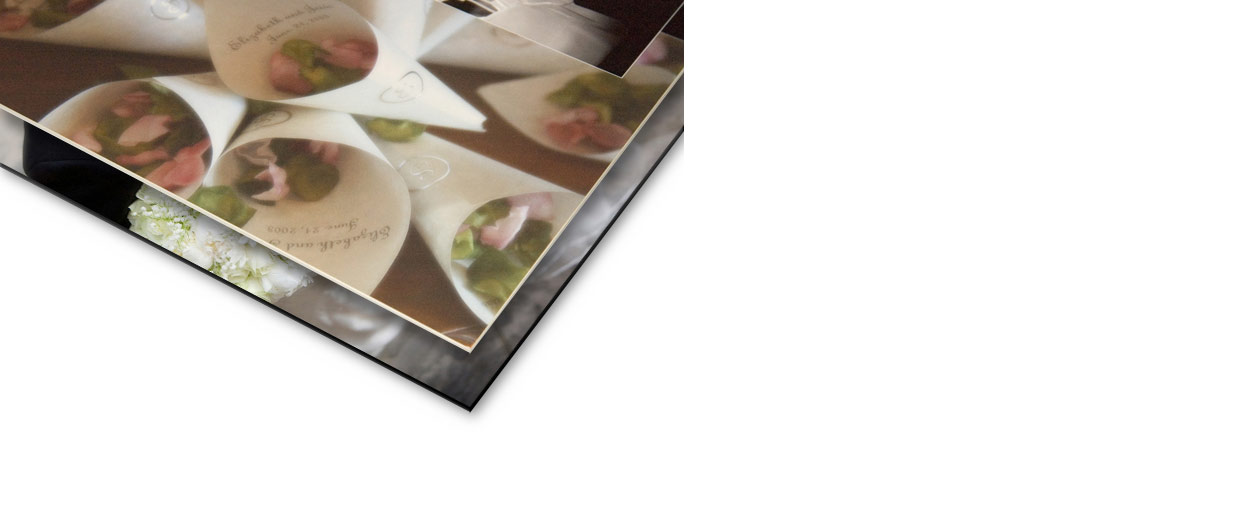 2mm Styrene
Styrene is a super smooth plastic mounting substrate that resists warping, making it an excellent choice for adding durability to prints of all sizes. Available in your choice of White or Black.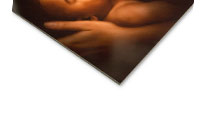 Gator Foamboard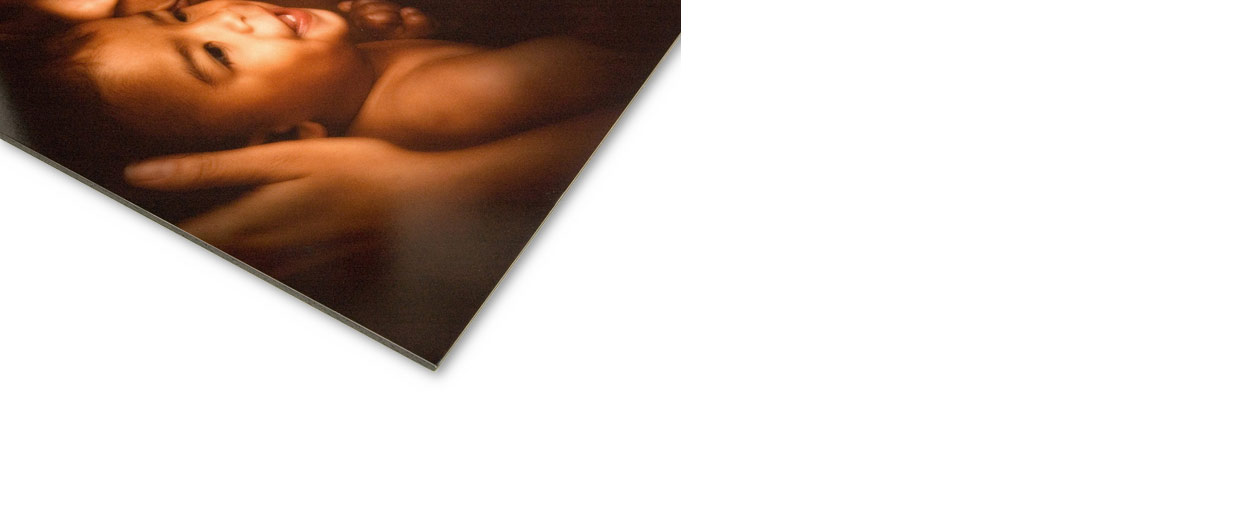 3/16" Gator Foamboard
A very rigid, durable, and lightweight backing that will not warp. Available in a matte black finish.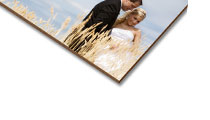 Masonite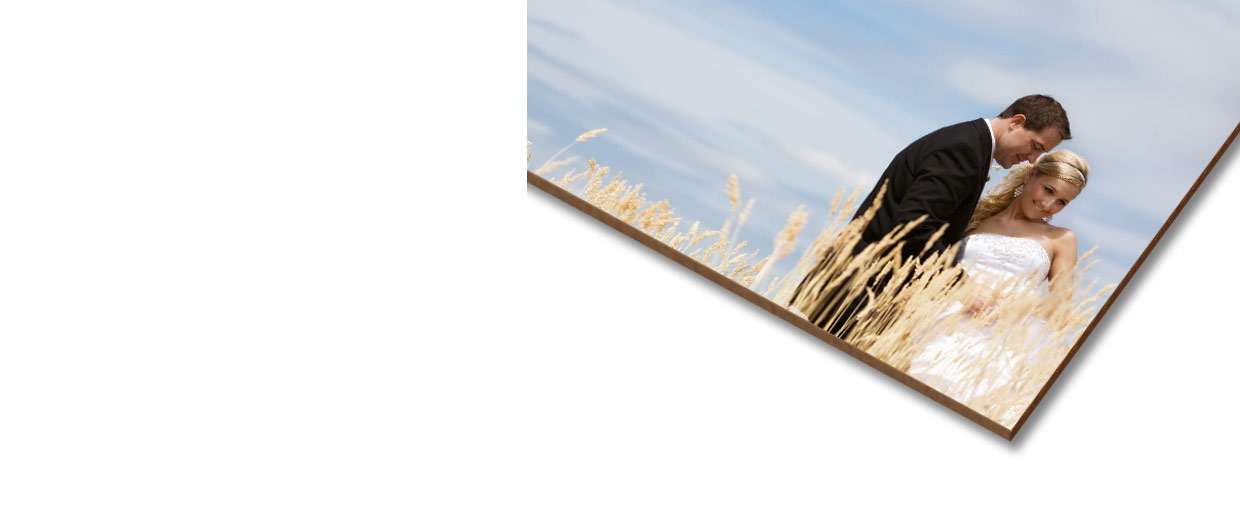 1/8" Hardboard Masonite
This high-end material is very rigid and adds weight to your presentation for a finished product with long-lasting durability.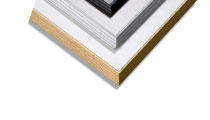 Bevel Mount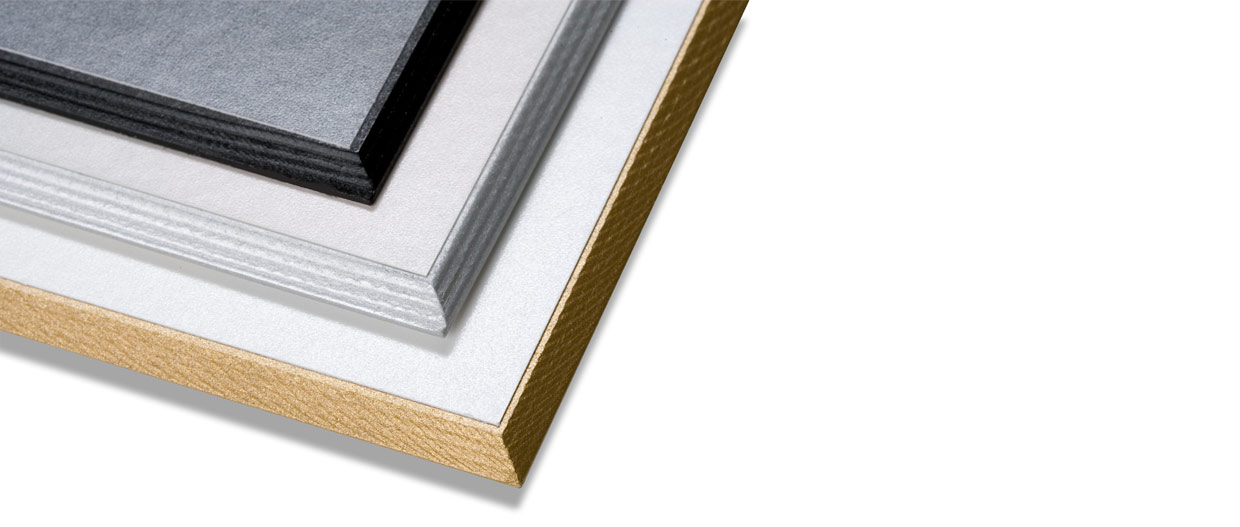 Bevel Mount
An elegant alternative to traditional photo mounting, this heavy weight board is substantial enough to stand on its own, making it perfect for gift giving or displaying on an easel. Also suitable for framing. Available with Gold, Silver, or Black edges.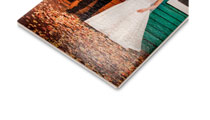 Canvas Board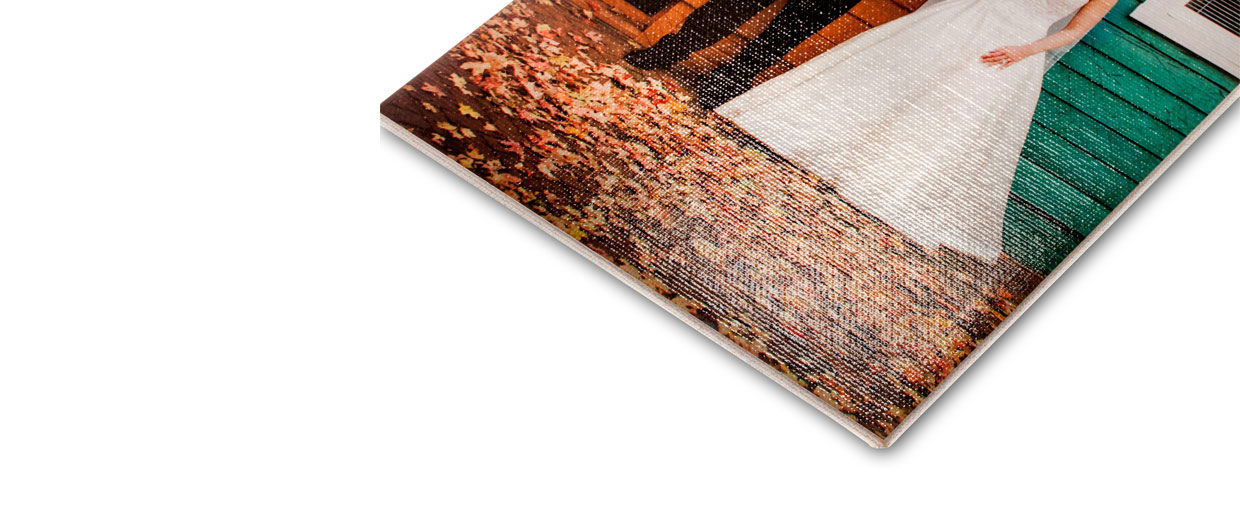 Canvas Board
A Photographic Print bonded with high pressure and heat onto museum quality canvas, then mounted on Gator Foamboard.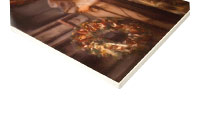 Stretch Canvas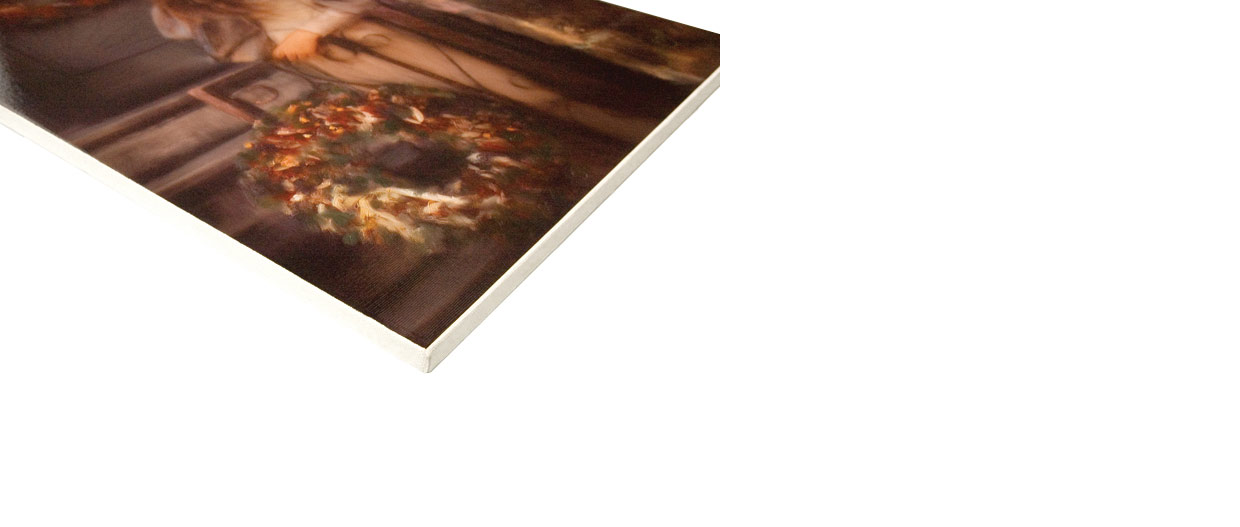 Stretch Canvas
A Photographic Print bonded with high pressure and heat onto museum quality canvas, then stretched and stapled onto a wood artists stretcher bar frame.
Gallery Wrap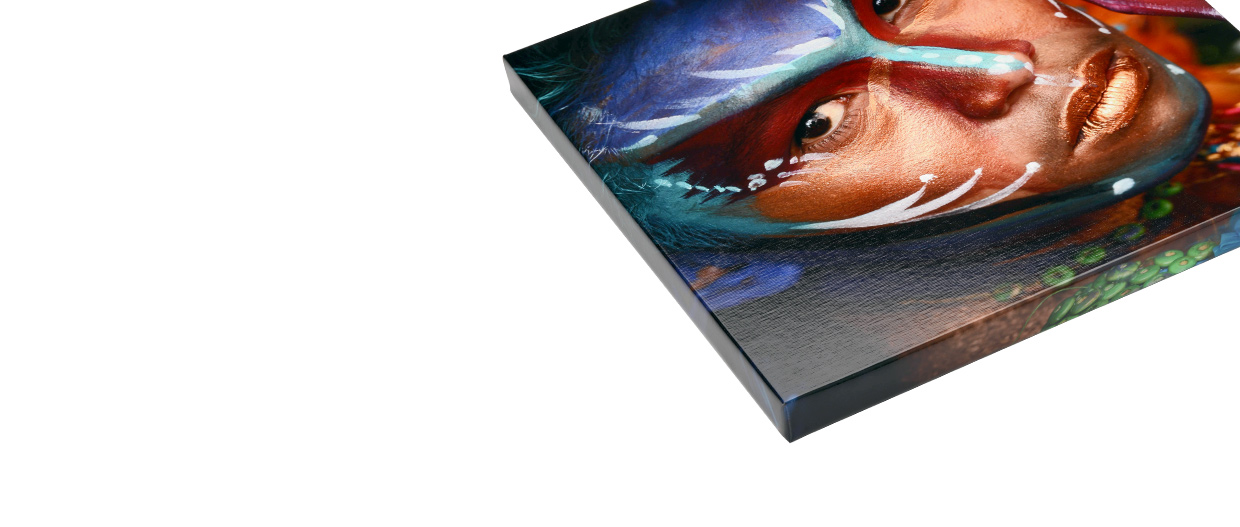 Gallery Wrap
A Photographic Print bonded with high pressure and heat onto museum quality canvas, then wrapped around a stretcher frame so that 1½" of the photo's edges are visible on the sides of the frame. Delivered display-ready with hanging hardware attached.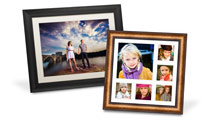 Framing & Matting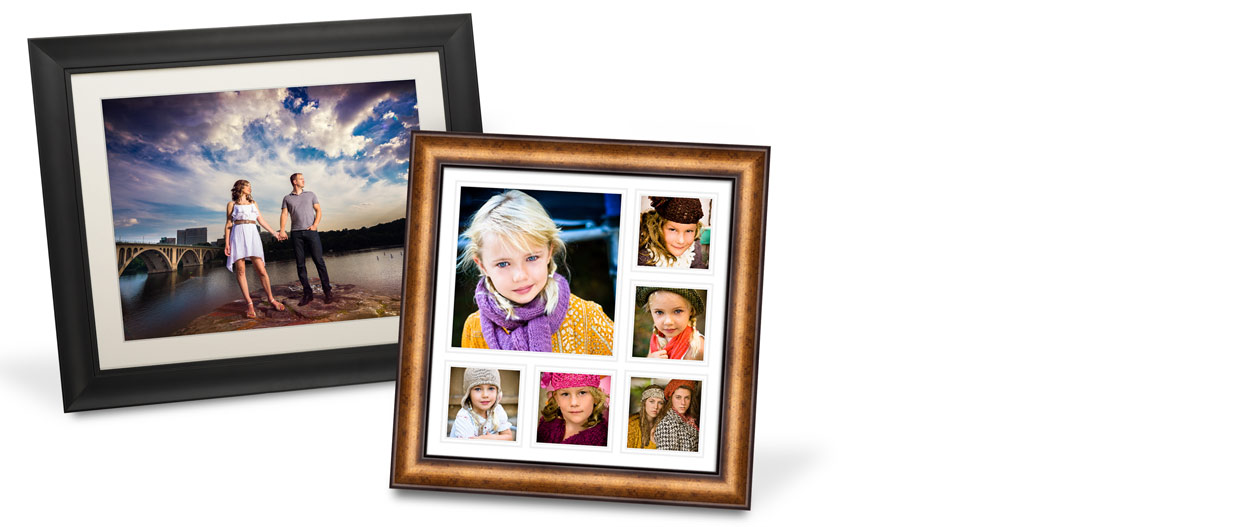 Framing & Matting
Choose from a variety of high quality wood or metal frames, in a range of colors, with optional matting and/or acrylic to protect the print.
Standout & Bamboo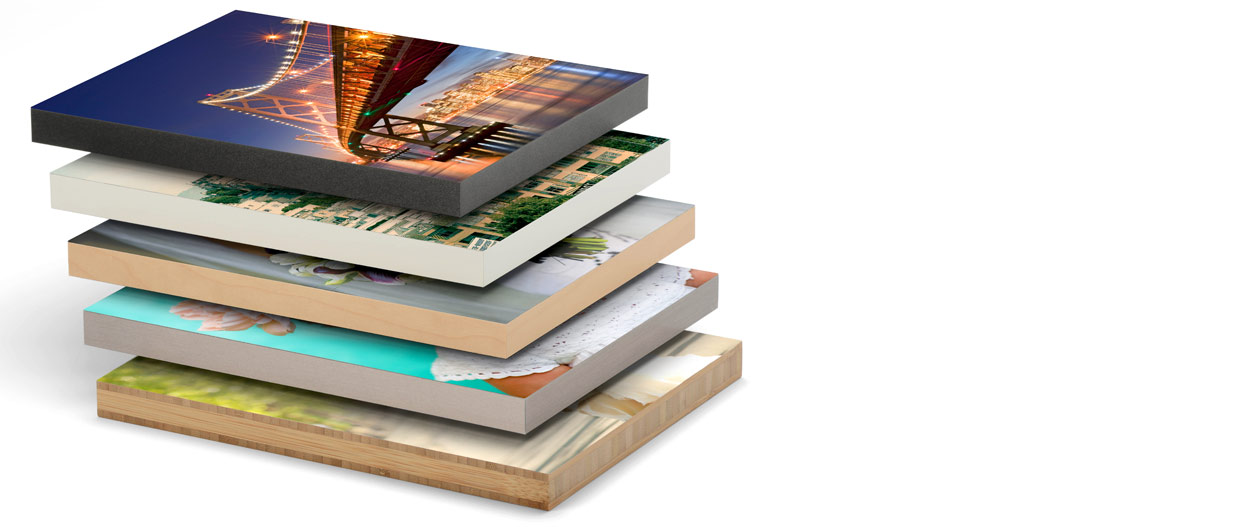 Standout & Bamboo Mount
Prints are mounted on a sustainably harvested solid Bamboo panel, or a thick lightweight ¾" or 1½" backing available with Black, White, Brushed Stainless, or Maple finished edges that gives a contemporary look to unframed images.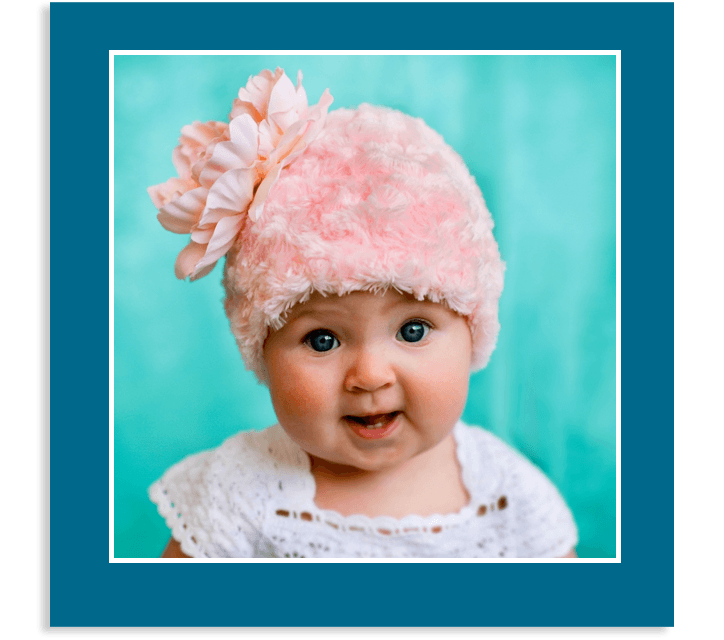 Sizes
Standard Photographic Print Sizes and Prices*
Mounting & Finishing Options for Photographic Prints (in addition to print price) Protective Coatings

Print Size
Full Color Correction
Economy
No Color Correction
2mm Styrene - White
2mm Styrene - Black
3/16" Gator Board
Canvas Board
Stretched Canvas
Bevel Mount
Black Standout Mount ¾"
Maximum HD Silver Halide
Masonite
Surface Texture
Laminate
Spray
8 Wallets
-
-
-
-
-
-
-
-
-
-
24 Wal**
-
-
-
-
-
-
-
-
-
-
-
104 Wal**
-
-
-
-
-
-
-
-
-
-
-
2x2
-
-
-
-
-
-
-
-
-
3x3
-
-
-
-
-
-
-
-
-
3x4
-
-
-
-
-
-
-
-
-
3x6
-
-
-
-
-
-
-
3½x5
-
-
-
-
-
-
3½x7
-
-
-
-
-
-
-
3½x10
-
-
-
-
-
-
-
4x4
-
-
-
-
-
-
4x5
-
-
4x6
-
-
4x7
-
-
-
-
-
4x8
-
-
-
-
-
4x8½
-
-
-
-
-
4x10
-
-
-
-
-
4x12
-
-
-
-
-
4½x4½
-
-
-
-
-
-
4½x7
-
-
-
-
-
5x5
-
-
5x7
-
-
5x8
-
-
-
-
-
5x10
-
-
-
-
5x14
-
-
-
-
-
5x15
-
-
-
5x20
-
-
-
5x30
-
-
-
-
5½x7
-
-
-
5½x8½
-
-
-
-
-
-
6x6
-
-
-
-
-
6x8
-
-
-
-
6x9
-
-
-
-
6x12
-
-
-
-
-
6x18
-
-
-
6x24
-
-
-
7x7
-
-
-
-
7x9
-
-
-
-
-
7x10
-
-
-
-
7x11
-
-
-
-
-
7x20
-
-
-
-
-
7½x17½
-
-
-
-
8x8
-
8x10
8x12
-
-
8x14
-
-
-
-
8x15
-
-
-
-
-
8x16
-
-
-
8x17
-
-
-
-
-
8x17½
-
-
-
-
-
8x20
-
-
-
8x24
-
-
-
8x30
-
-
-
-
8x32
-
-
-
8½x11
-
-
-
-
9x12
-
-
-
-
9x14
-
-
-
-
9x24
-
-
-
10x10
-
10x12
-
-
-
-
10x13
-
-
-
10x14
-
-
-
10x15
-
-
-
10x16
-
-
-
10x17
-
-
-
-
10x20
-
10x24
-
-
-
10x26
-
-
-
-
10x30
-
-
-
10x32
-
-
-
-
-
10x40
-
-
-
10⅛x12¼
-
-
-
-
11x11
-
-
-
11x14
11x16
-
-
-
-
11x17
-
-
-
-
11x22
-
-
-
-
11x28
-
-
-
-
-
11x33
-
-
-
11½x11½
-
-
-
-
12x12
-
-
12x15
-
-
-
-
12x16
-
-
-
-
12x17
-
-
-
-
-
12x18
-
-
12x20
-
-
-
12x24
-
-
-
12x28
-
-
-
-
-
12x30
-
-
-
-
12x36
-
-
-
12x48*
-
-
-
-
-
12¼x20¼
-
-
-
-
13x19
-
-
-
-
13x20
-
-
-
14x14
-
-
-
14x20
-
-
-
14x22
-
-
-
14x26
-
-
-
-
14x28
-
-
-
-
15x15
-
-
-
-
-
15x20
-
-
-
-
-
15x24
-
-
-
-
-
15x30
-
-
-
-
16x16
-
-
16x20
16x24
-
-
16x30
-
-
-
-
16x32
-
-
-
-
-
16x48*
-
-
-
-
-
16x64*
-
-
-
-
-
-
-
-
18x24
-
-
-
-
18x36
-
-
-
-
-
20x20
-
-
20x24
20x30
-
-
20x40
-
-
20x60*
-
-
-
-
-
20x80*
-
-
-
-
-
-
-
-
24x24
-
-
-
24x30
-
24x36
-
-
30x30
-
-
-
-
-
30x40
-
-
-
32x40
-
-
-
-
-
-
-
-
-
-
-
30x45*
-
-
-
-
-
-
-
-
-
30x50*
-
-
-
-
-
-
-
-
-
30x60*
-
-
-
-
-
-
-
-
-
30x90*
-
-
-
-
-
-
-
-
-
-
30x120*
-
-
-
-
-
-
-
-
-
-
36x36
-
-
-
-
-
-
-
-
-
-
-
36x48*
-
-
-
-
-
-
-
-
-
-
-
36x64*
-
-
-
-
-
-
-
-
-
-
-
36x96*
-
-
-
-
-
-
-
-
-
-
-
40x40*
-
-
-
-
-
-
-
-
-
-
-
40x50*
-
-
-
-
-
-
-
-
-
-
-
40x60*
-
-
-
-
-
-
-
-
-
-
-
40x70*
-
-
-
-
-
-
-
-
-
-
-
40x80*
-
-
-
-
-
-
-
-
-
-
-
40x90*
-
-
-
-
-
-
-
-
-
-
-
43x96*
-
-
-
-
-
-
-
-
-
-
-
50x50*
-
-
-
-
-
-
-
-
-
-
-
50x60*
-
-
-
-
-
-
-
-
-
-
-
50x70*
-
-
-
-
-
-
-
-
-
-
-
50x90*
-
-
-
-
-
-
-
-
-
-
-
4-2½x2½
-
-
-
-
-
-
-
-
-
-
-
4-3x3
-
-
-
-
-
-
-
-
-
-
-